ELW Advanced Programs take what you learned in Boot Camp to the next level.
The ExecLevel Wellness Advanced Program take what you learned in Boot Camp to the next level. It is based on fun workouts, team support and accountability that gets you moving and keeps you engaged in fitness. This program is most successful when executives from the same company, department, workplace, etc. join together to create a fitness team. You are encouraged to invite family members and friends to join in with you. The larger the accountability group, the more fun and successful the Program. You will have the option to continue in a "graduate" accountability group at no additional charge for as long as you want to participate.  They are 60 to 90-day intermediate – to – advanced level Beachbody Programs that have the following goals:
1) Building physical strength, endurance and flexibility as well as engage more fully in the mental aspect of your workouts,
2) Emphasizing consistency in your nutrition and building on the good habits established in Boot Camp,
3) Understanding the linkages between fitness/nutrition and aging well/leadership,
4) Inspiring and maintaining self-confidence and sense of accomplishment.
ELW Advanced Programs include:
Fitness
We will work 1-on-1 to determine the right fitness Program for you. We have a wide variety of programs to choose from, each of which has been fully researched and tested for effectiveness. The Programs range from moderate isometric flexibility, to advanced cross-training, to intense strength or cardiovascular conditioning. Each Program contains upward to 20 different routines that are performed in rotation over a 60 to 90-day period. In an average week you will perform 5 routines of 15 – 45 minutes in duration.
Nutrition
Here we will work toward establishing long-term nutritional consistency. On top of the balance, portion control and meal replacements stressed in Boot Camp, emphasis is placed on nutrition as it relates to choices at the market, and the use of simple recipes that are oftentimes much more beneficial to overall nutrition than prepared meals. We will also illustrate the value of detoxing/cleansing periodically, especially when spending excessive time on the road.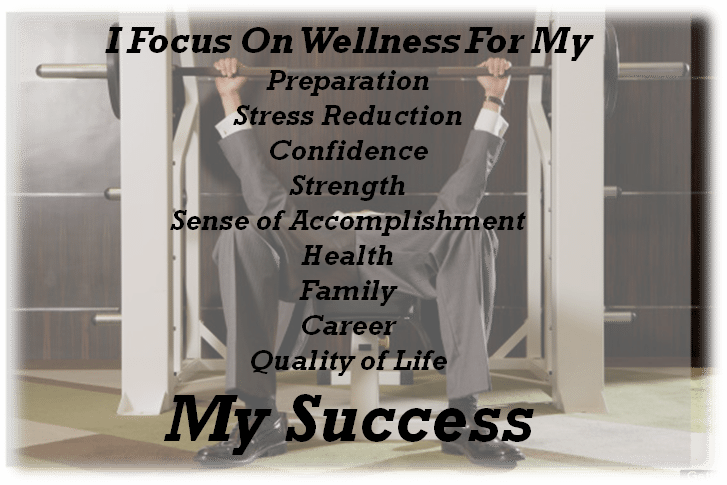 Leadership
Our object is to identify and understand how simple things inside of your control can work toward supporting your leadership abilities. Initially, we will focus on stress reduction and confidence building. Equally important will be identifying strengths and weaknesses in leadership skills. In the Advanced Programs we will provide insight based on our experiences about how wellness can address these topics.
Aging Well
In the realization that most ailments affecting 50+ population are chronic, with the direct (i.e., the outcome of the disease itself) and indirect consequences (i.e., the complications and constraints the disease imposes before outcome) showing up years after initial onset, it is important to define where you want to be as you grow older. In short, it is wise to implement wellness habits before an ailment is overtly apparent. Here, we will work with you to identify realistic, long-term health goals and understand the values of basic health as it relates to chronic ailments.
Support & Accountability
In the Advanced Programs you will receive 1 on 1 support, and access to closed focused groups populated by individuals similar to you.  This system provides for our instruction and sharing of experiences throughout the larger group.
Timing, Prerequisites and Cost
Advanced Programs are ongoing, but new Programs will be launched twice per year (with the ability to transfer between Programs). Entry requires a one-time completion of a Boot Camp. Costs range from $140 – $305 dependent on the length and timing of the Program.
Please Contact us for more Details on Advanced Programs
[gravityform id="14″ title="true" description="true"]