OUR NEXT EAT 2B HAPPY GROUP STARTS JANUARY 21, 2019!
Deadline to join: January 19th!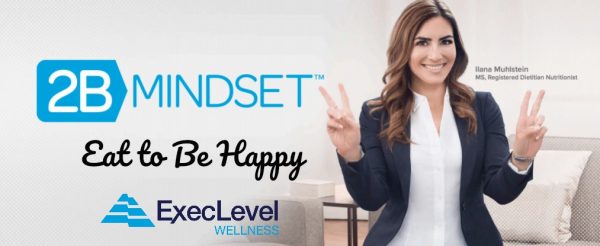 Who is ExecLevel Wellness?
We help busy executives find time in their schedule for healthy habits, so that they can take control of their health, manage stress and age well. Using our Pillars of Nutrition, Fitness, Leadership and Aging Well, we help health-conscious Executives who fear the stress of Corporate America is impacting their health & well-being, but want to be-re-energized and inspired to face head-on the increasing pressure to perform, unreasonable demands and political mayhem. ExecLevel Wellness promises to give you the tools and support to rejuvenate your mind, body & spirit by using proven systems that work anytime / anywhere and within a community of like-minded people! Backed by world-class fitness and nutrition tailored to your busy lifestyle and led by a team of professionals who have managed to stay fit in high stress environments, we address your need to reduce stress, increase confidence and improve work-life balance. We understand your desire to age well, re-connect with your passions and enjoy being a leader again.
Our Eat 2B Happy group is designed to fit into your busy lifestyle.  It is NOT a diet. It is a nutrition course that will teach you how to improve your relationship with food and lose weight…without ever feeling deprived.  And perhaps the best part for busy executives just starting on their wellness journey?  You don't have to step foot in a gym….exercise is optional!
Meet Your Coach!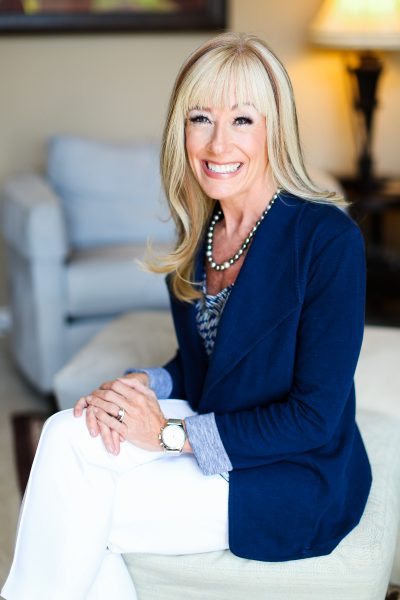 Hi! I'm Amy Nelson, Co-founder of ExecLevel Wellness and your very own personal Coach.  That's right, I am with you every step of the way answering your questions, helping you conquer obstacles and cheering you on!
I spent 20+ years in Corporate America — I KNOW how hard it is to eat healthy with all of the stress, demands on your time and availability of toxic "food"!  I'll share the strategies I used to do "just a little better" until I reached my goals.  Yes, I was a 6 pack / day Diet Pepsi drinker and most of my meals came out of the vending machine.  If I can change my habits so can you!
I will help you change your relationship with food and lose weight for good.  Exercise is totally optional!  We'll work on your nutrition habits first before introducing any exercise…and then only if you are ready.
What is the 2B Mindset?
2B MINDSET is a revolutionary video-based program that focuses on wholesome nutrition for weight-loss. Instead of diets that focus on what you can't eat, this simple and easy approach will have you concentrating on what you can eat so you feel full and satisfied without ever counting calories or measuring food, which makes losing weight simple, enjoyable, and sustainable.
"You can lose weight happily, without feeling deprived or hungry, without exercising, or cutting out whole food groups."
2B Mindset co-creator Ilana Muhlstein MS, RDN (Registered Dietitian Nutritionist) lost 100 pounds herself — and kept it off — using the 2B Mindset principles. She's also helped thousands of others lose weight through her private practice in Beverly Hills and a clinic in UCLA.
What makes the 2B mindset so unique and effective?
It's not a diet, it's a mindset. Most diets have an end date but because you'll be shifting the way you think about food, you can use the 2B Mindset principles for the rest of your life.
The system is a healthy approach to eating that lets you feel full and satisfied while arming you with proven strategies that will help you co-exist with food in real-world situations, satisfy cravings, and anticipate setbacks before they happen — so you can win the weight-loss struggle every single time.
Most diets require deprivation. The 2B Mindset shows you how to get to and maintain your ideal weight while eating foods you actually enjoy!
The 2B Mindset is also extremely easy to follow:
No counting calories, no measuring food, and no using containers.
No cutting out food groups.
No deprivation or feeling hungry.
Ability to follow the program even when you're at a restaurant, party or vacation!
2B Mindset Success Stories
Lakmini B. lost 73 pounds
"Not only am I 73 pounds lighter, but I feel like I can take on the world. I've never felt so vital or content. Because Ilana understands we are all different, I learned so much about myself on this program — not just which foods aid in weight loss — but about trusting myself, learning not to emotionally eat, recognizing signs of true hunger, and learning what it is to be satisfied. With the 2B Mindset, you'll actually enjoy weight loss."
Nathaniel G. lost 35 pounds 
"I've never lost 35 pounds before. This is the first time. I don't feel hungry. I don't feel starved. The things I craved before, I no longer do… I eat more in volume and variety than I did before. I don't consider the 2B Mindset a diet; I consider it a lifestyle change — and it's made the hugest change in my life. I feel fantastic and I want to maintain the way I feel. With the 2B Mindset, I have all the tools in my possession."
Lillian P. lost 30 pounds
"When you're in the 2B Mindset, you know how to create and maintain balance in your life, happily, and you can do it every single day. The people around you see the positivity that comes from changing your mindset around food, and they want to do it too. It becomes second nature to lose weight. Once you're in on the secret, there's no going back."
Imani B. lost 22.5 pounds
"After that first week, losing seven pounds, I knew I'd found the perfect program for me. Because I'm able to eat the same foods as everyone else, go back for seconds, and still lose weight. My weight loss is a lifestyle. It's an awareness rather than a goal. It's not a temporary fix. A 'diet' is temporary. A 'diet' means you get to your goal and you stop — which is the exact opposite of how weight loss works. A mindset lasts forever. I can do the 2B Mindset for life."
Matt H. lost 40 pounds
"One of the first things I noticed doing the 2B Mindset was how full I was. It's completely different from other diets where you're walking away depleted and without energy. It takes just a tweak in your mind; it's so easy after that. I'm eating the stuff that I want to eat, and still losing weight without spending hours in the gym and without starving myself."
The 2B Mindset Kit Includes: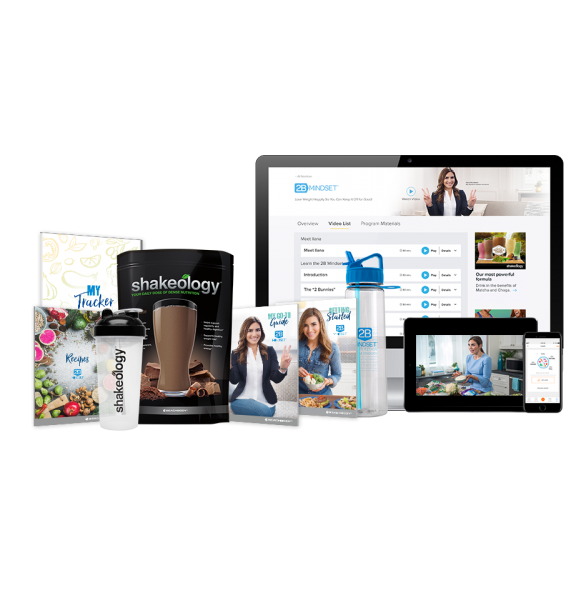 Your first 30-day supply of Shakeology PLUS
The 2B Mindset Kit, which includes:
–  21 Learn the 2B Mindset Videos
–  5 Ask Ilana Videos
–  15 Recipe Videos
–  Getting Started Guide
–  My Go-To Guide
–  My Tracker
–  2B Mindset Water Bottle
–  Recipes
–  Beachbody Nutrition+ App (iOS only)
–  Shakeology Shaker Cup
–  Free Access to Your Own Personal Coach
JOIN BEFORE JANUARY 19TH TO RECEIVE THESE EXCLUSIVE BONUSES!
BONUS #1:
LIFETIME access to our Exclusive Eat 2B Happy Facebook Group!
Peer support and a community of like-minded people is very important to our process.  To have a group of people going through the same program with you is invaluable.  You'll be inspired by their stories and they will be inspired by yours!
You'll have lifetime access to this group for ongoing support well after you have reached your weight loss goals!
BONUS #2:
30 Minute 1:1 Getting Started Right Call
We will review your goals, answer all your questions and you will walk away with my best tips on how to get the most out of the 2B Mindset program.
DON'T WAIT!
To make sure we provide the very best support we only have space for 15 people.  Join today to secure your spot.
†Results vary depending on starting point and effort. Exercise and proper diet are necessary to achieve and maintain weight loss and muscle definition. The testimonials featured may have used more than one Beachbody product or extended the program to achieve their maximum results.
Consult your physician and follow all safety instructions before beginning any exercise program or nutrition plan, or using any supplement or meal replacement product, especially if you are pregnant, breastfeeding, have any medical condition, or are taking any medication. The contents on our website are for informational purposes only, and are not intended to diagnose any medical condition, replace the advice of a healthcare professional, or provide any medical advice, diagnosis, or treatment.