We hope we've inspired you to make a change!


(1) You'll Have to put the Button Pants back on eventually! 
Weight loss is a nice side-effect of our From Stressed to Best Boocamp – you'll also be getting healthier and reducing stress. If that's your goal, you'll achieve both. We focus on BEHAVIOR BASED goals (building healthy habits) rather than OUTCOME BASED goals we can't control (lose 10 pounds).  This builds the foundation for healthy weight loss as you build consistency. 
It is the best way – in 28 days – we have found to cut visceral and subcutaneous fat – essentially, flatten my gut and tighten my skin (for definition).
(2) Reduce Stress & Achieve Long Term Health with Healthy Habits
We built the From Stressed to Best Program to AMPLIFY your results from the 21 Day Fix Program with 28 daily coaching videos to solidify the connection between eating well, exercise and stress reduction for busy professionals & entrepreneurs. 
Putting it all together builds a foundation for healthy lifestyle changes that LAST. And we know you're busy so we made it simple and efficient.
We do Bootcamp to refresh our memory on things we've learned, but maybe forgotten. Here, we're talking about ELW add-on videos, which are worth watching every now and again to give you thoughts on Wellness (anti-Stress).  
(3) Strengthen Your Core
High level professionals & entrepreneurs sit A LOT.  Having a strong core is so important to maintain healthy, pain free aging! 
It's also important for my scoliosis warrior friends, building a strong core eliminates pain for me.
It's a very good core workout without you knowing that you're working your core. There are a lot of compound moves – centering on the core – that are performed over 3-weeks.
(4) It's NOT a DIET!
Pizza, burgers, desserts…healthy food does not have to mean dry toast, chicken and broccoli!! It also doesn't mean you can't ever eat out at a restaurant or enjoy a glass of wine again! 
We've eaten this way ever since the program was released. It's not a diet, it's a simple way to eat real, whole foods in the right balance and portion sizes for energy and health. 
YOU DO  NOT have to turn your whole life upside down to be successful.
It can be modified for your goals and long-term use (weight loss or maintenance) and vegetarian & vegan options are available as well.
It's a good refresher course on Nutrition. Over time, we might drift into less-than-good nutrition, and Bootcamp will bring us back into whack.
(5) Improve Cardio, Strength, Balance, Flexibility and Agility… you won't get bored!
Well-rounded workouts suitable for beginners or advanced levels of fitness. A different workout focused on these various areas every day of the week so you don't get bored.
The fitness routines contain a lot of these qualities, which lack in straight resistance and/or aerobic training.
Aerobic Fitness. I do not routinely do much aerobic training, so Bootcamp starts that up again.
(6) Detox from processed foods & boost your immune system with a superfood shake
We've shared a lot of information lately about how exercise & nutrition boost your immune system – this program will help you implement!
Shakeology has been proven to kill cravings to help you eat nutrient dense whole foods and ditch the junk to reach your stress reduction & weight loss goals faster. We drink Shakeology daily (and have for the past 8 years) for the whole superfood dense nutrition it provides: 
Protein (plant-based or whey available)

SUPER-GREEN/phytonutrients, 

Adaptogens,

Vitamins & minerals,

PROBIOTIC/DIGESTIVE ENZYMES 
If you want to take it to the next level:
Bootcamp is a good staging ground for 3-Day Refresh. Essentially, you can get the most out of Bootcamp, and the 3-DR, by bolting the 3-DR to the end of Bootcamp. Over 4-weeks of Bootcamp you have gradually pulled your good Nutrition from, for example, 50-to-80%. At this stage, the 3-DR is fairly easy to do (as opposed to cold-turkey) in order to push the chemistry in your body to an even better place.
(7) Improve Self-Confidence & Self-Esteem
Take control during uncertain times; build self-discipline. When we're highly stressed it can feel like everything is out of our control…doing your workouts and eating good food can go a long way in improving self-esteem and confidence! 
The idea that we are improving ourselves – for many of the above reasons. The ability to change from general to focused Fitness & Nutrition regiments. The rewards are: a) we are still "flexible" enough to adapt to something new (we can still do it), b) We are able to amplify exact aspects of Fitness & Nutrition for specific purpose, and c) we are disciplined enough to commit to at least 4-week of something out of my ordinary.
(8) It's Easy & Fun! We make it easy providing step-by-step Coaching, Support and all the tools you need to succeed.The Group Camaraderie makes it FUN! 
We're all doing the same workouts so it's fun to compare notes, challenge each other and support each other. Sharing recipes & ideas for meal planning / prepping takes everyone's success up a level.
It's actually fairly easy and fun. The time commitment is 30 minutes/day for Fitness, and Nutrition practices become fairly easy after the first week (if you're not accustomed to them).
(9) You're Stuck at Home and have a great opportunity to dedicate some time to your health!
You don't have to turn your life upside down, just making small changes consistently will help you reach your goals!
(10) You'll kick-off your healthy lifestyle and live your best life


---
We are on a MISSION to help over 40 high level professionals and entrepreneurs to conquer stress so that they can live their best life. Download our FREE guide REJUVENATE: 24 Techniques to Beat Stress.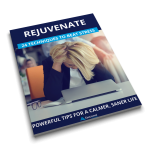 Enter your name and email to tell us where to send it!
---