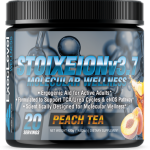 Here is what others have to say about Stoixeion 3.7
My current physical workouts are enhanced from both a mental and physical perspective. It prepares me for an increased level of physical effort, with less after workout fatigue. *
~ Robert T.
The biggest benefit for me is the "amp" that comes prior to a workout. I would add that my A1C has dropped from 7.3 to 5.5 in the past 18 months and continues to lower which I'm sure is in part to using Stoixeion v3.7. There is also a sense of clarity and an overall feeling of better health that comes when using Stoixeion v3.7. *
~ Ray C.
The three weeks I was using it I felt great I can't really put my finger on it but now that I've been out for a couple of weeks I am noticing fatigue and I caught a cold. *
~ Eddie B.
My stamina during workouts is great and recovery is amazing. The hydration in my skin in unbelievable I use less lotion, I'm normally extremely dry, but with this my skin is very much improved. *
~ Sarah M.
I feel a physical boost at the beginning of the day when taking Stoixeion and the customer service experience has been great!
~ Kyle H.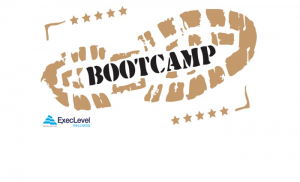 Here is what our clients are saying about our programs…
Staying on track requires a conscious effort. Before Boot Camp, I would get wrapped up in work, life, etc. like everyone else and it was easy for me to let my workouts or good nutrition be the things that got pushed to the side. Especially with a stressful job that requires supporting multiple teams across the globe, it's easy to never feel like I've done enough at work and frustrating to feel like work always has to be the priority.
This resulted in difficulty in maintaining my work-life balance and letting frustration of the workday carry into my home life and "healthy living". By the end of the day, it would be too easy to just go home, pour a glass of wine and get back on the computer. That then carries over into the next day when I would be stressed and angry before even logging into my computer.
The ELW Boot Camp videos and daily messages have been awesome. It's easy to fall into 'victim mode' thinking I'm the only one that is going through "this" or in feeling like everyone else can juggle it, but yet I struggle. Boot Camp brought people together with the exact same experiences and struggles so it's a community of support and ideas on how to navigate through the chaos.
The App is awesome because it's a great tool for tracking and to interact with just this community and not get sucked into 30 minutes of FaceBook. Being in Boot Camp also kept me focused on doing the workouts and while I don't like them all, there is always a feeling of having accomplished something good when those 30 minutes are up.
Thank you Amy and Randy for hosting a great ExecLevel Wellness Boot Camp! You not only hosted it, but you lead-by-example walking the talk and staying with your clients every step of the way. Your daily messages and videos based on you own experiences and research were informative, helpful and motivational because they are based in practice rather than preaching. This Boot Camp helped me to better identify and put into practice the techniques for improved work/life balance and zero-in on areas of improvement for aging well. Thank you for this great program!
      ~ Jacki R., Boot Camp Graduate
Before Boot Camp, I struggled with not having consistent high energy levels and motivation. As a result, I felt lazy and like I wasn't utilizing all my time wisely. After Boot Camp, I now have more energy and motivation to not procrastinate and be more focused which gave me more time to myself in the long run. The support group helped provide motivation and accountability. The depth of the support system at all fitness levels was engaging. I want to do my workout because I feel much better even if I am having a bad day! Best thing I ever did for myself!
      ~ Wendy S., Boot Camp Graduate
Before Boot Camp, I struggled with eating healthy, low energy and a pale complexion. Boot Camp helped me stay focused and committed to my goals. I initially thought logging and posting workouts and shakes to an online app was strange and hokey, especially since I didn't know these people! But, I actually enjoyed it. It made me stay focused and committed. The group also inspired me to work harder. There are some amazing members of the group who really push themselves above expected limits.
      ~ Darlene R., Boot Camp Graduate
Before Boot Camp, my mental body image didn't fit my physical body: in my mind's eye, I am fit, toned, strong, with an athletic build. But in reality, I'm a little 'squidgey' around the edges. Every time I see myself in a photograph, I am surprised because the image that I see reflected back is not who I think I am. I didn't like having my picture taken because it would reinforce the difference between my mental picture of myself and my reality. I was losing confidence in myself because even though I was trying to change (exercising, and my version of a diet), nothing was actually changing. Boot Camp gave me the tools to begin making some changes: I learned about portion control. I learned that clean eating can be really tasty! I learned how very important nutrition is to changing one's body. I also learned that productive exercise can be focused and intense, but doesn't have to take a lot of time. I am now more intentional about what I cook and how much I eat. I haven't had to remove anything from my diet, but it's turned out that I've been less interested in eating salty or sweet or fatty foods. There is so much goodness to be found in nutritious meals! I've enjoyed Amy's and Randy's active coaching- Amy checks in with me to hear how I'm doing and to give me tips and tricks to address the frustrations I experience. I understand portion control and balance nutrition better now and can enact the lessons I've learned even while traveling for work, or while on a family trip.
      ~ Sarah R.,  Boot Camp Graduate
Before Boot Camp, I constantly struggled with my motivation and being consistent with my meal plans and workouts. It was extremely frustrating to start a program in the past and then slowly do less and less until I gave up. I've known my why has not been strong enough and just finding the will power to focus on my goals has been rough for me.
The biggest affect of that was the constant yo-yo dieting, the ups and downs with my weight and the one day focused, one day not.
Boot Camp has helped me with being accountable and tracking, which I believe helps me with my consistency. I love tracking my workouts and Shakeology and I really like that if I miss a workout, it shows me that. There is just something about the app feature that keeps me going, especially when I get notifications to remind me.
The most important positive effect for me due to this Boot Camp has been the change in my mindset. My motivation is so much stronger than before and I have a "no quit" attitude. Everyday I think, "is this worth it" and "how will this impact my goals". With the changes in my body, my clothes getting looser on me, and the amount of energy I have each day, just proves how much this program works and how I finally found something that is perfect for me! Thank you, Amy & Randy!!!
      ~ Angela R., Boot Camp Graduate
Before ExecLevel Wellness Boot Camp I struggled getting my motivation back and eating correctly. I would get depressed and basically shut down and not do anything. But during Boot Camp, Coach Amy reached out and helped remind me to push play. She kept me in check when needed and helped me keep going. Now I focus on good food to eat to help me keep focused and motivated. I have less back pain due to exercising and strengthening my muscles that help support it.
      ~ Katie K.,  Bootcamp Graduate
Right before starting ELW Boot Camp I had hurt my back. I then struggled lifting wheelchairs in my car and it was also hard to sit all day at work. I was mad at myself because I think I hurt my back because I had basically taken time off from working out regularly. I would do good for a few weeks and then slack off. I was frustrated and feeling like I could not achieve my goals.
Boot Camp helped me break old habits to start new, healthier ones! The 21-Day fix meal plan also helped me learn more about portion control. It helped me stay motivated and share tips with my virtual team members! It also helped to know that I could contact my Coach to ask questions. I had group support and 1 on 1 support….it helps you stay accountable! I need to stay healthy and fit to help my family and friends. I also need to reach a healthier BMI to reduce my risk of Cancer returning.
      ~ Margaret B.,  Bootcamp Graduate

* Featured Stoixeion testimonials were provided from our product test group, some of whom have a personal relationship with ELW LLC and some of whom are unknown to us. Product testers received free Stoixeion in exchange for their honest feedback. Results will vary based on starting point, fitness level and general health.
*These statements have not been evaluated by the Food and Drug Administration. This product is not intended to diagnose, treat, cure, or prevent any disease.